The construction aggregate industry is vast and multi-faceted. A successful M&A strategy in this sphere demands an understanding of the broader Aggregate M&A Value, which requires more than just a keen eye for profitable quarries. In this exploration, we delve into the add-ons that elevate the inherent value of these acquisitions.
1. Distribution Networks: Your Link to Aggregate M&A Value
A robust distribution network is a lifeline for any business in the construction aggregate industry. Such networks serve as conduits, efficiently connecting production sites to the market. When part of an M&A, they can significantly enhance Aggregate M&A Value in various ways:
Expand Your Market Reach:
Venturing into untapped regions can be a game-changer for businesses. Acquiring a company with an established distribution network allows you to leverage their existing infrastructure and relationships, ensuring seamless entry into new markets. With the right distribution channels in place, you can efficiently deliver aggregates even to remote areas, eliminating the need to build from scratch and avoiding common pitfalls of market entry. This not only enhances the Aggregate M&A Value but also positions the business for rapid growth.
Reduce Transportation Costs:
Transportation is often a significant overhead for aggregate businesses. By incorporating a company with pre-established routes and proven transport methodologies, you can potentially save a considerable amount on logistics. Efficient routes mean shorter transit times and reduced fuel consumption, leading to both financial savings and a smaller carbon footprint. Furthermore, using an established transport fleet, if part of the deal, means avoiding the capital expenditure of procuring vehicles, further enhancing the Aggregate M&A Value.
Strengthen Customer Relationships:
Consistency is key in business. When clients know they can rely on timely deliveries and high-quality service, they are more likely to remain loyal. A well-oiled distribution network ensures that aggregates reach customers as promised, fostering trust and enhancing brand reliability. Additionally, an established network may already come with a dedicated client base, providing an immediate opportunity to foster and strengthen these relationships. In the world of Aggregate M&A Value, customer loyalty can be one of the most potent assets, promising consistent revenue streams and word-of-mouth recommendations.
2. Technological Infrastructure: Boosting Aggregate M&A Value
In today's digital age, the role of technology in enhancing business processes cannot be understated. When contemplating M&A in the construction aggregate sector, the technological prowess a company possesses can significantly influence its value. Here's how:
Integrated Management Systems:
Integrated Management Systems (IMS) offer a unified approach to streamline various business processes. These systems connect every facet of operations, from procurement of raw materials to sales and distribution. Acquiring a company equipped with a robust IMS means benefiting from seamless communication across departments, reduced operational redundancies, and optimized workflows. For instance, an order placed by a customer can instantly reflect in inventory management, ensuring timely procurement and delivery. Such cohesion not only enhances Aggregate M&A Value by improving efficiency but also positions the business for scalable growth.
Data Analysis Tools:
In an industry driven by demand-supply dynamics, having the right data analysis tools can be a game-changer. These tools process vast amounts of data, extracting actionable insights that can shape business strategies. For an aggregate business, this could mean better market predictions, understanding peak demand periods, or identifying logistical bottlenecks. With the surge of big data, acquiring a company that harnesses the power of data analytics ensures that decisions are data-backed, reducing the margin for error. This capability not only provides a competitive edge but also significantly amplifies Aggregate M&A Value by promising enhanced operational efficiency and informed decision-making.
Sustainable Tech:
Environmental consciousness is no longer a mere trend; it's a decisive factor for many clients when choosing business partners. Sustainable technologies in the aggregate industry could range from energy-efficient machinery to waste reduction systems. By adopting eco-friendly solutions, a company positions itself as a responsible player in the market, appealing to green-conscious clients and stakeholders. Furthermore, sustainable practices often lead to long-term cost savings, such as reduced energy bills or fewer regulatory fines. Incorporating a business with a green tech infrastructure can, therefore, enhance Aggregate M&A Value by aligning with current market preferences and ensuring future-readiness.
3: Brand Reputation: The Silent Power Player in Aggregate M&A Value
Brand reputation, while intangible, can have tangible effects on a company's bottom line and overall valuation. In the aggregates sector, a robust brand reputation is not just about public perception; it directly translates to trust, loyalty, and financial prowess. Here's why:
Client Trust:
In industries like construction aggregates, trust is paramount. Clients need to know they can depend on consistent quality and timely deliveries. A company with a solid brand reputation has likely earned it through years of reliable service and product excellence. This history fosters trust, ensuring repeat business from familiar clientele. When considering M&A, acquiring a trusted brand can mean gaining access to its loyal customer base, reducing the time and resources needed to win them over.
Premium Pricing:
A recognized brand often has a perceived value higher than its competitors, even if the tangible product is similar. This perception allows companies with strong brand equity to charge premium prices for their products or services. It's not just about the product's physical attributes but also the peace of mind and assurance that come with purchasing from a reputed brand. In the context of Aggregate M&A Value, acquiring such a brand provides the opportunity to maintain or even raise product pricing, boosting profit margins without necessarily increasing production costs.
Employee Morale:
The pride associated with working for a reputed brand cannot be underestimated. Employees often feel a sense of accomplishment and value when they're part of a well-regarded company in their industry. This sentiment can lead to increased job satisfaction, lower turnover rates, and higher overall morale. In the long run, this means reduced recruitment and training costs, and a team that's more motivated and efficient. For M&A, integrating teams becomes smoother when the acquired company's workforce is proud and satisfied with their brand affiliation.
4: Ancillary Services: Broadening Horizons in Aggregate M&As
In a rapidly evolving sector like construction aggregates, mere product offerings may not always be enough. Ancillary services play a pivotal role in enhancing a company's value proposition, offering not just products but complete solutions that cater to a broader spectrum of customer needs. Here's how they make a difference:
Open New Revenue Avenues:
Ancillary services are like the additional tools in a toolkit, each designed to address a specific need or challenge. By introducing diversified income sources, a company can cushion itself against fluctuations in the primary revenue stream. For instance, while the primary product might be aggregates, offering services like consulting, equipment leasing, or even logistical solutions can help generate additional income. In the context of M&A, acquiring a company with varied ancillary services can instantly broaden the revenue base, making the merged entity more resilient and versatile.
Enhance Client Engagement:
Clients prefer solutions that simplify their processes. When a company offers ancillary services, it positions itself as a one-stop-shop. Instead of coordinating with multiple vendors or service providers, clients can find everything they need under one roof. This not only streamlines their operations but also deepens their engagement with the provider. For M&A, acquiring a company that offers comprehensive solutions means inheriting a client base that's deeply integrated and potentially more loyal, making client retention post-acquisition smoother.
Leverage Industry Trends:
The aggregates sector, like any industry, witnesses evolving trends. These trends could be driven by technological innovations, regulatory changes, or shifting market dynamics. Ancillary services offer a quick route to tap into these trends. For instance, if there's a growing demand for sustainable construction practices, a company offering consulting services on sustainable aggregate use can capitalize on this trend. M&As aiming to leverage current market demands should prioritize companies that have the agility and infrastructure to adapt to industry trends swiftly.
5. Environmental and Social Initiatives: Pioneering Aggregate M&A Value in Sustainability
In an era where sustainable practices are not just encouraged but expected, businesses across sectors are recognizing the importance of environmental and social responsibility. For the construction aggregate industry, these initiatives offer more than just goodwill; they can be a strategic asset in mergers and acquisitions. Here's a deeper dive into how:
Regulatory Compliance:
Environmental regulations are ever-evolving, with stricter mandates being introduced to ensure sustainable practices in the construction and aggregate industry. Staying updated with these regulations is not just about avoiding potential penalties; it's about future-proofing the business. Companies that already adhere to the highest environmental standards present a distinct advantage in M&As. When acquiring such companies, you're not just inheriting their best practices but also minimizing the risk of future regulatory hurdles. It ensures a smoother transition phase post-acquisition and reduces the time and resources spent on achieving compliance.
Community Engagement:
Local communities play a significant role in the operations of aggregate companies. Their support, or lack thereof, can influence the ease with which operations are carried out. Companies that have cultivated strong relationships with their local communities are seen as more valuable assets in M&As. These relationships often translate to fewer operational disruptions, streamlined processes, and even potential leads for local partnerships or collaborations. When considering an M&A opportunity, the goodwill and reputation of the target company within its local community can be a strong indicator of its long-term operational viability.
Brand Enhancement:
Today's clients and stakeholders are increasingly conscious of the environmental footprints of the companies they associate with. Carving a niche as a sustainability champion isn't just about public relations; it's about positioning the brand as a forward-thinking leader in the aggregates sector. Companies that have integrated sustainability into their core values often enjoy higher trust from clients, partners, and investors alike. In the context of M&A, acquiring such a company can provide an immediate brand boost, making the merged entity more attractive to stakeholders and opening doors to collaborations that value sustainability.
In the fiercely competitive realm of construction aggregate M&As, the profound upside often extends beyond the mere quarry. It's these value add-ons, from technological prowess to a formidable brand reputation, that can truly differentiate your endeavors. As you chart your course in the world of M&A, let Mineralocity Aggregates guide you, offering specialized insights and tools geared for unparalleled success.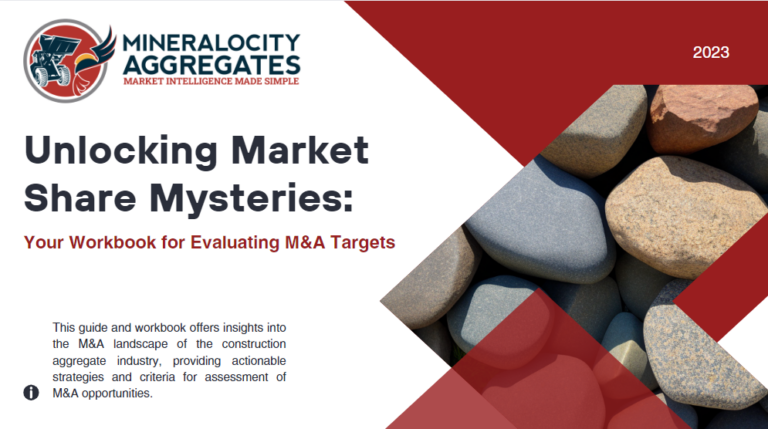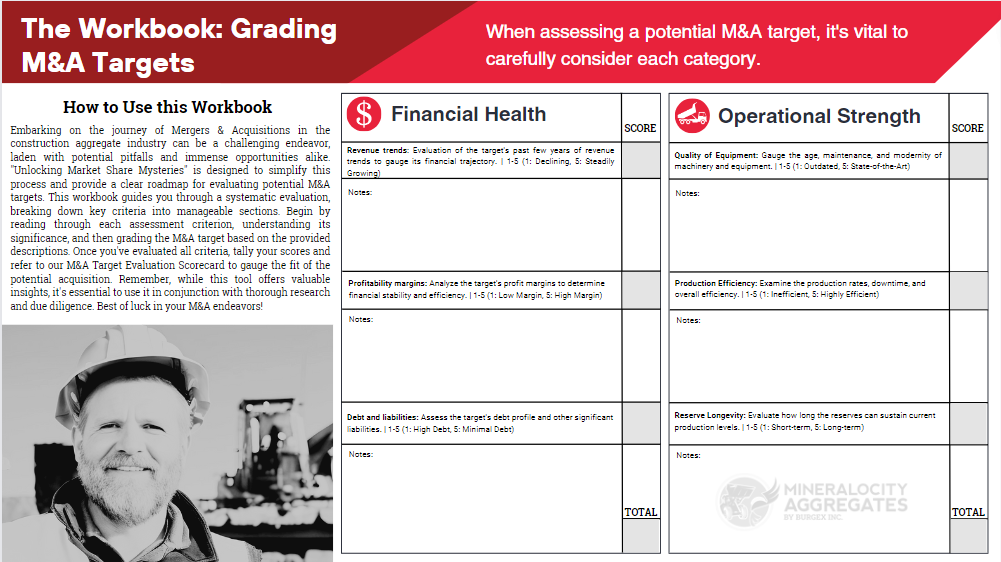 Are You Prepared to Master the Art of Aggregate M&A Target Evaluation?
Unlock the secrets of successful M&A in the aggregates industry with our comprehensive workbook. Packed with actionable insights, best practices, and strategic tools, this guide is your blueprint for making informed, profitable decisions. 
Don't miss your chance to elevate your M&A game—download now!