Crushed stone, sand, gravel, and other construction aggregates account for half of the industrial minerals produced in the United States.
These materials represent a $29 billion per year business in the country.
The map above from our sponsor Burgex uses data from Mineralocity to show where aggregates are produced in America.
What Are Aggregate Minerals?
Aggregates are a variety of materials produced in pits or quarries, including sands, gravel, and crushed stone.
They are usually used in construction, with the largest proportion used to manufacture concrete.
Sand: The world's most consumed raw material after water and the primary substance used in construction.
Gravel: It occurs naturally but it is also produced. Almost half of all gravel production is used as an aggregate for concrete.
Crushed Stone: Used mostly as an aggregate for road construction and maintenance. It is the leading nonfuel mineral commodity (by value of production) in America.
On average, each person in America drives demand for over 10,000 lbs of stone and around 7,000 lbs of sand and gravel per year.
Aggregate Production by State
Ten states produce more than 50% of the country's construction aggregates.
The five leading States are, in descending order of total output: Texas, California, Florida, Ohio, and Pennsylvania.
Over 7,000 U.S. commercial aggregate companies are currently operating.
Growing urban areas across the U.S. and the rise in high-rise structures, which use concrete extensively, are expected to continue boosting demand for aggregates.
Additionally, maintenance of aging infrastructure across the country is expected to support the demand. In 2011, a study by the United States Geological Survey concluded that one-third of America's major roads were in poor or mediocre condition, and over one-quarter of the bridges were either structurally deficient or functionally obsolete.
In this scenario, the aggregates market in the U.S. is expected to grow by 263.53 million tons from 2021 to 2026, at an annual average growth rate of over 2.5%.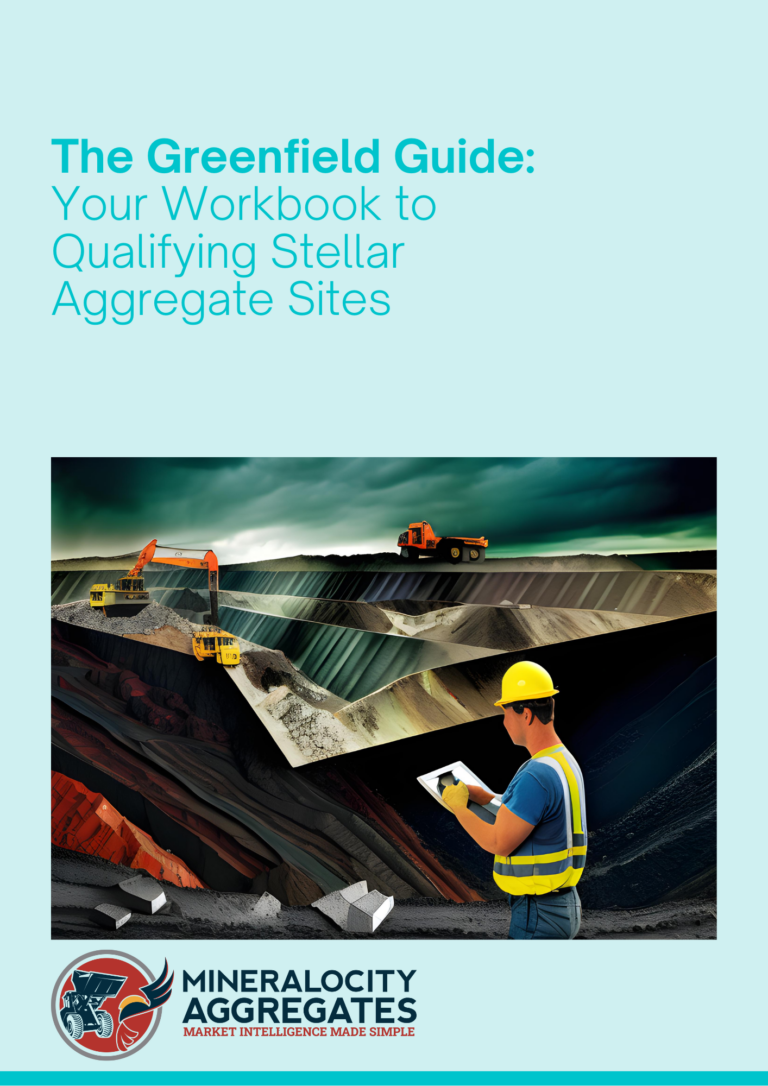 Ready to Unlock the Secrets of Successful Greenfield Site Evaluation?
Dive deeper into the world of construction aggregate production with our exclusive Greenfield Guide. Whether you're a seasoned expert or just embarking on your aggregate adventure, this guide is your roadmap to identifying prime locations, assessing supply potential, and capturing significant market shares. Arm yourself with proven strategies, actionable insights, and essential formulas designed to propel your projects to unparalleled success. Don't miss this chance to elevate your greenfield endeavors – grab your free copy of the Greenfield Guide now!