My Background
As an experienced geographic information system (GIS) analyst in the oil/gas and wireless infrastructure industries, I was excited to help Burgex improve its consulting projects through added innovation to GIS processes. During my work with various GIS analytics, I discovered and implemented techniques to not only enhance the time line outputs of our data and visuals, but also explore deeper and wider applications of GIS analytics in the aggregates industry.
As I embraced new GIS tools and techniques, I began to consider how we could elevate our analytics and services to the next level. With various processes and data to analyze site-specific opportunities, I wondered how I, as a GIS analyst, could repeatedly generate a granular analysis of site suitability and create a high-resolution picture of aggregate markets. Such curiosity involved reinventing workflows and enhancing processes, which included finding new and improved ways to observe population distributions as well as supply and demand influences in market regions.
What Is Mineralocity?
After months of intensive research, development, and GIS modeling, we created a grid of analysis data that became the foundation of our product, Mineralocity. This product provides high-level transparency of aggregate markets across the United States and enables Burgex and its subscribers to evaluate market conditions, aggregate site opportunities, producer influence, and supplementary market data exponentially faster than ever before.
Being the culmination of tens of millions of data points, Mineralocity has become the new way to observe aggregate market regions, predicted demands, and site suitability at a high level. It sheds light on the importance of resources within reasonable proximity to populated areas, as transportation costs play a big role in the price of purchasing material. Our analytics maps reveal that some regions are well-positioned to meet demand while many are not. Many major cities must transport aggregate materials over extensive distances to meet the growth of their urban and rural development areas.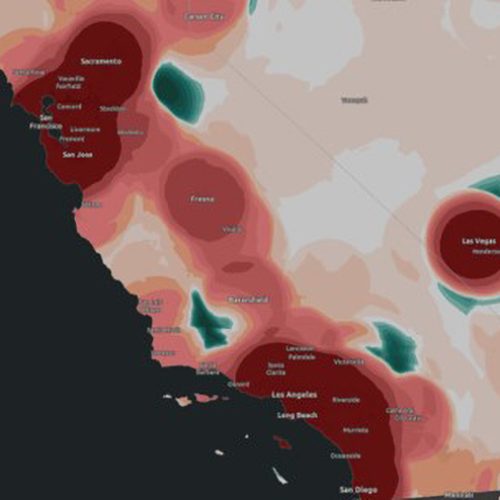 Markets within the California region showing high Deficit regions will low regional supply.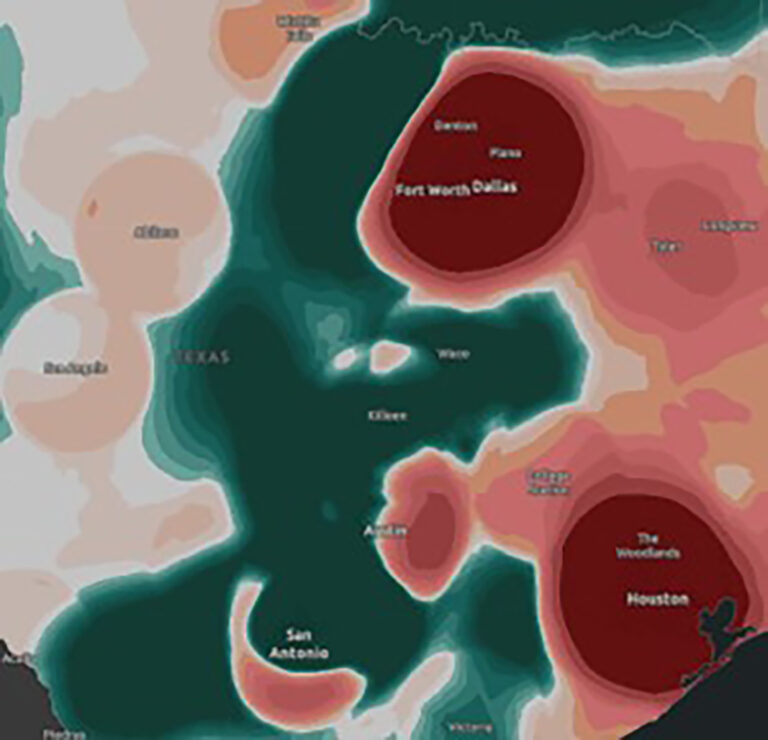 Markets within the Texas region showing high deficits for aggregate materials at market proximities. Significant supply is present, but hours distance from major demand markets.
Partnering with Dodge Construction Network
The value and insight brought about by Mineralocity have created much attention within the public and private sectors. One of the exciting things that has resulted from Mineralocity is the integration of Dodge Construction Network data, which provides visibility into aggregate intensive projects and estimated construction spend by county. This gives fantastic insight into where aggregates are needed and will be needed in the future. The dataset contains current and pending infrastructure projects consisting of wide, local, and nonresidential construction.
Partnering with MarketBee
Also, we will be implementing an Aggregates Producer Price Index (APPI) via a new partnership with Market Bee, giving insight into the current standings and price fluctuations of aggregates throughout the United States. This will be a valuable addition to Mineralocity for those who want to enter newer favorable markets via mergers and acquisitions or outward expansion. Over time additional data insights will be included, which will provide index pricing information for various individual product types and sizes.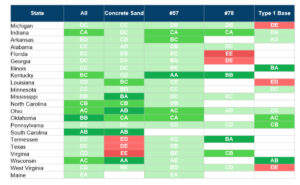 Market Aggregate Producer Price Index (APPI)
The APPI provides an invaluable tool for producers, suppliers, and industry analysts to track and analyze price movements of various aggregates across different geographical areas.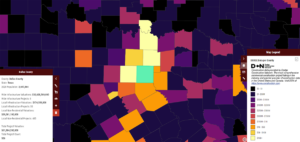 The dataset includes location-based information on where construction dollars will be spent and where aggregate demand is heading.
Always Innovating
As the lead GIS developer for this project, I am proud of what Burgex has accomplished, and I trust that Mineralocity will not only help connect aggregate industry and public leaders but will also bring insight to those within the data analysis/GIS community. Mineralocity is an evolving platform, and we look forward to making positive changes in the mining industry.
We are excited to announce that new aggregate market grids will soon come to the Mineralocity platform. We are working toward having them ready and live upon launch of the Mineralocity major upgrade!