As the CEO of Burgex Mining Consultants, I've always been driven by a powerful and inspiring purpose – to create a better, more sustainable future by advancing the synergies between humanity and nature. This conviction is at the very core of our company, guiding every decision we make and shaping the way we approach our work in the mineral resource and aggregate industries.   
Our "why" statement, influenced by Simon Sinek's Golden Circle concept, encapsulates this vision:
"Burgex believes in a better, more sustainable future and exists to help advance the synergies between humanity and nature." 
In line with this mission, we've also developed a 'Why' for our Mineralocity initiative, which focuses on the importance of aggregate projects in maintaining robust and healthy infrastructure:
"We aim to educate, advocate, and promote aggregate projects that help keep our infrastructure robust and healthy."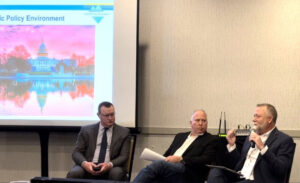 To realize this goal, I have established a clear strategy for Burgex that revolves around three key pillars: education, advocacy, and the promotion of responsible exploration projects. As a U.S. company, we are dedicated to empowering our nation by reducing its reliance on foreign supplies and championing sustainable domestic resource development. 
What truly sets Burgex apart, however, is our unwavering commitment to providing our clients with exceptional expertise and clarity. We take pride in guiding our clients through the complexities of the mining industry and helping them unlock the full potential of their mineral resource projects in a responsible and environmentally conscious manner. 
This steadfast dedication to our "why" is what elevates Burgex beyond a mere mining consultancy. We are a catalyst for change, a beacon of hope, and a living example of how purpose-driven organizations can make a tangible difference in the world. By centering our belief in a sustainable future at the heart of our operations, we embody the ideals of responsible business practices and environmental stewardship. 
 As we face an ever-changing global landscape, the need for responsible resource development becomes increasingly paramount. I am proud to lead Burgex Mining Consultants on this vital mission and am deeply committed to fostering a brighter, more sustainable future that embraces the harmony between humanity and the natural world. 
Chris Summers, CEO of Burgex Mining Consultants