June 2, 2023, marked a significant milestone in the U.S. mining industry as Burgex Inc. unveiled an innovative, game-changing platform – Mineralocity. Aiming to reshape the landscape of the industry, Mineralocity presents a comprehensive, verified, and visually searchable map of all commercial mines in the United States.
Developed in direct response to the growing national focus on the revitalization of infrastructure and the burgeoning green economy, Mineralocity delivers a level of detail and breadth of information unseen before in this space. This groundbreaking platform integrates an extensive dataset, including details about the locations, commodities, and production levels of all commercial mines across the nation.
Stuart Burgess, Chairman and Co-Founder of Burgex, expressed his excitement about the launch, saying, 
The journey that led to Mineralocity started with its predecessor, Mineralocity Aggregates. Specifically designed for the construction aggregate industry, the platform saw substantial success in its field, prompting Burgex to think bigger. This strategic expansion led to the creation of the comprehensive Mineralocity platform, encompassing the entire U.S. mining industry and offering critical insights across a wide range of commodities. This decision paved the way for a more robust domestic supply chain, underpinning a broad array of businesses.
Mineralocity goes beyond being a mere data provider—it represents a new paradigm in industry research tools, designed to augment users' research capabilities and catalyze superior decision-making processes. At its core, Mineralocity's strength lies in the rich, multi-faceted data it offers.
Starting with the comprehensive mapping of over 100 different mineral commodity types, users have unprecedented visibility into the diversity of the mining landscape. This feature alone provides a powerful tool for anyone looking to find specific commodities, conduct comparative analysis, or identify emerging opportunities.
Complementing this, Mineralocity's inclusion of general geology data serves as a key resource for understanding the geological contexts of mining sites. This insight into the geological makeup of the mining areas, from rock formations to soil types, could prove invaluable in numerous applications such as planning extraction methods or estimating extraction costs.
The platform's nationwide parcel data further enriches its offerings by providing detailed information about land ownership and boundaries. This can prove instrumental in strategic planning, investment decisions, or even identifying potential partnership opportunities.
Mineralocity also integrates sophisticated tools like customized drive-time analysis, giving users the capability to understand the logistical implications of mine locations. Users can explore potential distribution routes, estimate transportation costs, and identify strategically advantageous locations for new operations or distribution centers.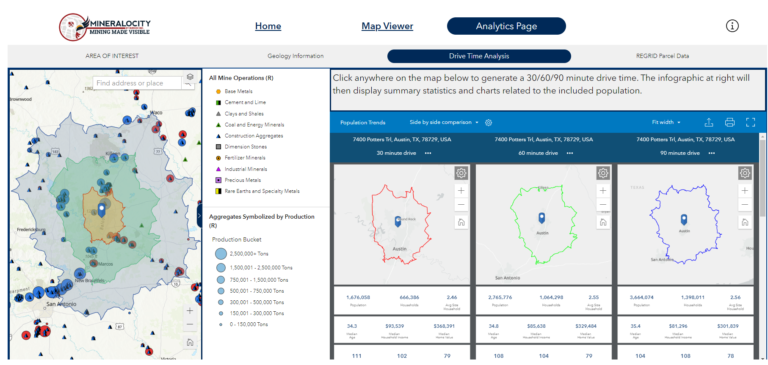 Staying Ahead of the Game
In this rapidly evolving industry, staying ahead of trends is paramount. Mineralocity empowers its users to do just that. With a combination of these advanced features and continually updated data, users are armed with the knowledge and insights they need to anticipate industry changes, identify opportunities, and make data-driven decisions.
In a world where sustainability and local supply chains are increasingly essential, Mineralocity addresses these concerns head-on. By offering detailed, current data on domestic mining operations, the platform enables businesses to source materials more efficiently and sustainably. It also empowers suppliers to the mining industry to better position their sales teams, distribution centers, and other assets.
"Mineralocity represents a significant leap forward for the mining industry," added Stuart Burgess. "We're not just providing a map; we're offering a powerful tool that can transform operations and contribute to the broader push toward a sustainable, green economy."
Experience the transformational power of Mineralocity and discover how it can revolutionize your operations. Visit Mineralocity.com to learn more.